Corfu - Panorama Restaurant & 7th Heaven Cafe - Corfu
Logas The Sunset Beach Peroulades

To contact Panorama telephone :- +302 6630 - 95035 or 95095
From the UK 00302 6630 95035 / 95095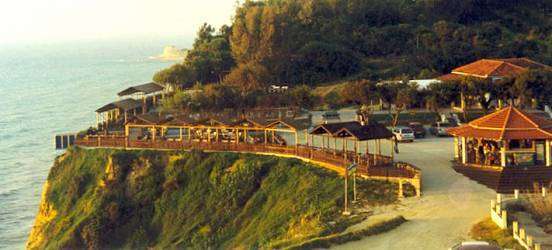 Started June 2002 (or 1995) - October 04 update.
We have spent many hours of our holidays on Corfu just relaxing drinking one of these and enjoying the company, the view from the cliffs and of course those wonderful Corfu sunsets across the islands. There always seems to be a cool breeze and the air smells fresh. For us there is something very special about Panorama, Seventh Heaven and our friends there.

Panorama is a family owned and run taverna.

I think the way we liked their home Greek food gave them some idea of how other tourists would enjoy it to. In 2003 they added what they call vegitable soup. I call it a meal. Do try it. It is lovely and ideal for lunch after one of those 'heavy nights'.

Panorama is wonderful for a meal. The food, the service, the atmosphere and the choice is just right. The menu does not read like a telephone directory because it really is fresh. Nevertheless there is always plenty of choice and the Corfuan and Greek specialities are always worth trying. The starter for two is definately an - Oh my God !

This is the place where I learned to like wine. Greek of course. The home grown house wine is exeptional value and so 'easy' to drink. No hangover either and that really does make a nice change.

There are also snacks available at the bar near the cliffs. The pizzas, salads, ice creams and milk shakes are all very good. The cocktails are out of this world. Well after two or three (maybe) I usually am. The 'Green Goddess' was born in 03 (that's our name, if you can think of a better one please tell George) is very ,very nice and of course there is THE Sunset coctail , the superb B52 and many others. I watched one young German tourist take one of George's cocktails down in one. Strawberry Colada I think. He croaked "das gut" or something like it. Brave lad, I shook his hand, he would probably have fallen off the bar stool if I had not.

The Balcony. If you do not have a head for heights forget it. It is perfectly safe - I think. It just looks like it is going to go the way of Atlantis. Take a stroll down to the quiet sandy beaches below the cliffs. Just the sound of the waves and the gentle breeze. An ideal place to 'shut down' for a while - like the sunsets. Rest in the sun or enjoy a lazy swim. Hire a canoe or a pedaloe and explore the rugged coastline. The sea is very clean, as are the beaches which are raked and tidied every morning. Blue Flag - not good enough.

I GIVE IT GOLD.

60,000 pebbles. At a guess that is. I thought only we English were eccentric. It's nice to know we are not alone. It took Spiros and George 3 months. I did suggest to one or two tourists not to sit still for too long. Just in case you have a pebble fetish here are a few more.

I have never seen such clean, modern toilets anywhere in Greece. Mind you they are a little difficult to get to.

Panorama is a little off the beaten track. About 2 miles from Sidari and with all the tavernas and bars who wants to travel? The Greeks do, even those with their own tavernas or bars. One fact that cannot be denied is that wherever Greeks eat - it has to be the best.

Quote from Suzanne (UK)
My boyfriend and I have just returned from our first holiday to Sidari last Wednesday. On your recommendation, we took a taxi to Sunset beach one evening and had a beautiful meal at the Panorama while watching an awesome sunset. I began to feel a bit chilly once the sun had set, but it was no problem as one of the waiters very kindly searched inside the Taverna for a jumper and brought one out for me to wear for the rest of the evening.

Quote from Stephen
Panorama at Sunset Beach sets the standard for the rest to follow, fantastic food, friendly staff and what a view.

Mureil (Switzerland)
A big hello to the Panorama-crew. Vinci and I had a very peacefull time there. I just can recommand to go to that magic place and enjoy an easy and beautiful moment. We discovered Panorama just by hazard, driving all around Corfu, and came back everyday after that first one. The people there just make the difference. So nice!!! Thanks to Vagelis and George for it and "yamas"...

Maurn and I (UK)
To compare Panorama with other restaurants is impossible. The wonderful view, the sunsets and the cool breeze set it apart. Add to that some of the best food on Corfu, great friends, good service, good value and Panorama becomes unique.

Video's of Panorama - September 2004

Panorama is at Sunset (Logas) beach just 10 minutes stroll from Peroulades Village. This photo was taken as we flew home. Peroulades, Panorama and pedaloes. If you are staying in Roda, San Stefanos, San George, Arillas or Acheravi then you are not far away. Have a sunset at Panorama and maybe, just maybe, you will be lucky enough to see one of those sunsets. Just click on the photo's below for an enlarged view or have a look at the main photo page, you won't be disappointed.

Sept 2004




For the main photo page click the photo below.